---
Tricky Image, 2004 palomino gelding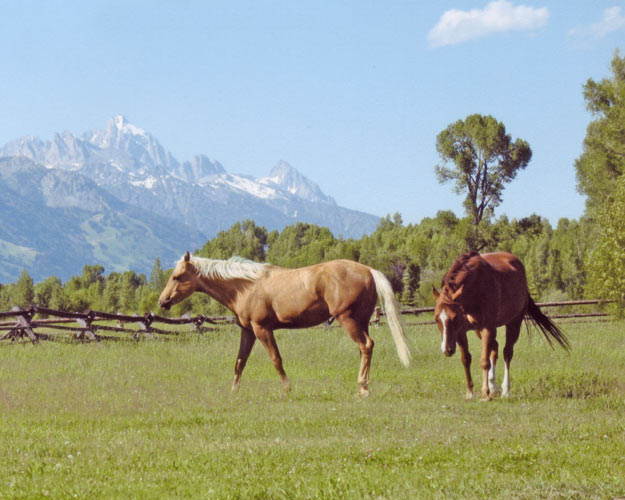 ---
We bred "Trixie", one of our good daughters of On The Money Red to Bar Clay Image for a 2004 foal. This mare has a lot to contribute, being out of an own daughter of Biankus. And there's more to her story. You should take a look at SS Reds On The Run.
Bar Clay Image, Tricky's sire, is a muscular package with a beautiful head and high luster bronze palomino coat. He has been running barrels and poles and producing barrel horses in this valley area for several years. Clay is a high percentage color producer.
Trixie's colt was born May 20, 2004 at 2:30 A.M. The only white on him is the star on his face. It is hard to tell from their baby fur, but we expect him to be a lighter bronze color, like his sire. This foal is very straight, and has been friendly right from the start. He was quick to stand and very stable on his long legs.
Tricky now lives in the shadows of the Grand Tetons in Jackson, Wyoming. He has grown into a fine looking young man, as you can see in the following photo.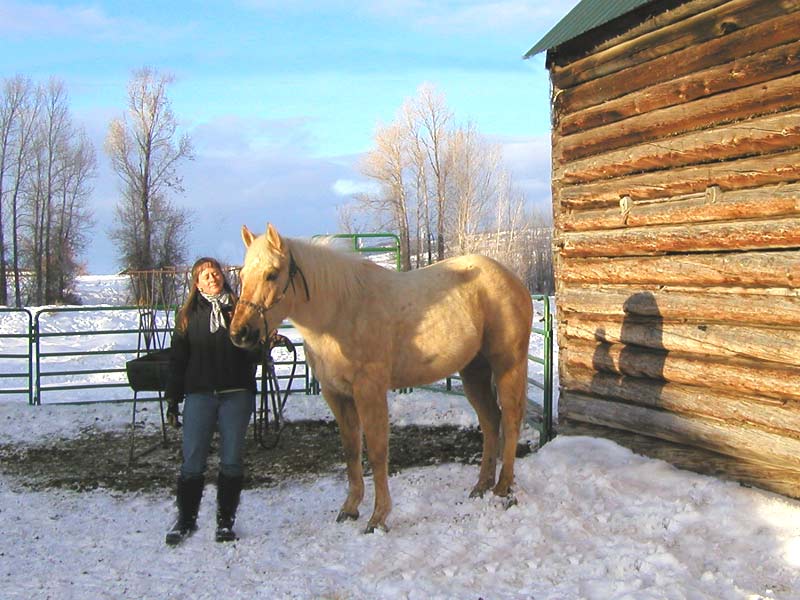 ---
---

---
Pedigree of Tricky Image 2004 palomino gelding
(You can click on the horses' names in
red

to learn more about them.)
---
(SIRE side)
Mr Charge Bar
Super James
Triple Charge Leo
Miss Top Bar
Lukenbach Lady
Tripple Pat
Bar Clay Image
Tinsel's Peggy
Major Bonanza
Coy's Bonanza
April Experiment
Manana's Rosa
Kieffer Ette
Cowboy 2 Duster
Kaweah Diana Dan
---
(DAM side)
Bennie's Big Red
Bennie Leo
On The Money Red
Pay Jay
Dolly Priest
Little Dick Priest
SS Reds on the Run
Queen Jacket
Biankus
Skippety Flip
Callie Kay Biankus
Hansen'sMissWaggoner
Calapooia Kay
Brown's Royal
Fame Request
---
All content in this document copyright © Sunrise West Quarter Horses, LLC, all rights reserved.